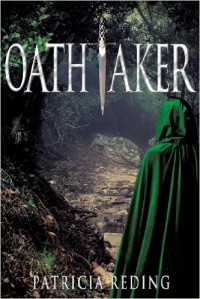 I wanted to share this wonderful new 5-star review just in from Kim Anisi for Readers' Favorite. Kim wrote:
Oathtaker by Patricia Reding is a book about courage, loss, decisions, friendship, love, and adventures. But above all, it is a story about dedication. Mara, a young Oathtaker, never had a charge before: each Oathtaker is trained to be the guardian of a Select, one of the chosen ones. When Mara follows her call to find her Select, she is presented with more than she ever expected. Her charge is quite special, but so is the danger that comes with becoming a dedicated Oathtaker. She is also confronted with Dixon, whose charge died in childbirth - and left Mara with the responsibility to look after her offspring, a seventh seventh (and a surprise), a very special Select. Dixon also dedicated his life to the protection of the offspring and to Mara. Their path is not an easy one, but step by step they find more support, but also more darkness.

Be warned: when you start reading Oathtaker by Patricia Reding, you better have quite a bit of spare time on your hands because it's really hard to stop once you get to know the different interesting characters. Some are charming (or think they are), others are simply lovable and cute, and then there are the ones that make you wish that they do not get a happy ending at all. I loved the fact that Oathtaker was not a short book. I enjoyed it so much and was happy when I saw that I wasn't that close to the end yet. And I will definitely read the other books in the series once they come out. It's the kind of book that draws you in and makes you care about the characters and the world they are living.
Find this review and more here and also on Barnes and Noble here. - Amazon won't allow review sites of this nature to post on Amazon. : (
My sincerest "thanks" to Kim and to the Readers' Favorite team.
Also, by way of reminder, there is a current "giveaway" running here on BookLikes for one print copy of Oathtaker and another current "giveaway" running for two e-copies. Sign up today! (There is also a giveaway running on GoodReads . . . )